Every year on 4 February, Slade Health proudly supports World Cancer Day, providing an opportunity to add our voice to the global cancer conversation. This year we share a moment of reflection from one of our team members –  National Logistics Manager Matthew Anastasopoulos. Matthew isn't on the frontline of cancer care, but his job is integral to ensuring patients across Australia receive their chemotherapy safely and on time.
"Before working for Icon I wasn't too familiar with cancer and cancer treatment. Like most people, we had all heard stories about how a relative or friend was receiving treatment and undergoing chemotherapy, however I had not fully understood or recognised the level of effort, detail, dedication, and commitment from teams right across the board until this job at Slade Health.
A significant memorable moment for me was during the 2021 New South Wales floods. These floods caused road and airport closures through Port Macquarie, Taree, and Foster for multiple days. However, the even more vulnerable patients of Port Macquarie were still waiting for their treatments to arrive.
This problem required some outside-the-box thinking! Although the airport was closed, the Coffs Harbour Airport was still open. However, all roads down from Coffs Harbour were blocked. We made a call to the State Emergency Service (SES) in New South Wales and explained our predicament. The solution was to have Port Macquarie's orders flown into Coffs Harbour, where the SES would collect them from the airport and fly them in via helicopter due to deteriorating weather conditions.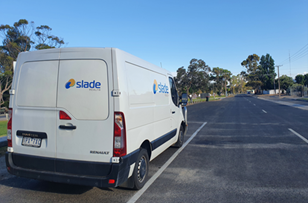 This had a big impact on me as even the SES, who were extremely busy during this time, lent us their resources and worked hard to ensure patients received their treatments as scheduled. As we live the cancer conversation every day it is important to take a step back and recognise the Group-wide efforts behind a patient simply "receiving treatment" and realise how vital our roles are."